Fathom Crypt

Level

20-25

Experience Cap

28

Unlocking

Buy from Store

Previous

Next

Towne

Quests

14

Dungeons

7
Full of skillful skeletons and wacky bosses, the Fathom crypt offers a great fight for players around levels 20-25. Searching for rare items wont be easy but stick at it and who knows what treasures you could get your bony hands on?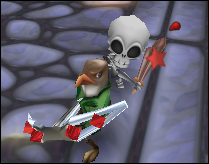 Ad blocker interference detected!
Wikia is a free-to-use site that makes money from advertising. We have a modified experience for viewers using ad blockers

Wikia is not accessible if you've made further modifications. Remove the custom ad blocker rule(s) and the page will load as expected.