( Base stats: 1 STRENGTH, 2 DEXTERITY, 7 INTELLIGENCE)"
The Elf may often be considered the weakest of the three characters due to a low base health pool and damage, but it quickly makes up for those weaknesses with its devastating spells, fantastic healing and incredible buff abilities.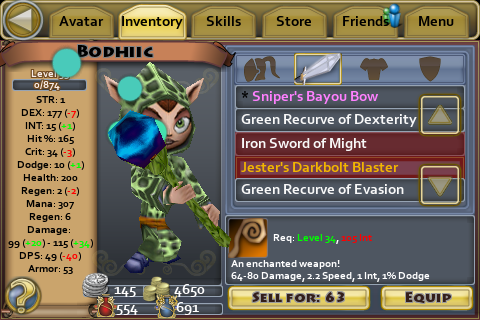 FrostBite-(Lv.2)
Lightning-(Lv.3)
Heal-(Lv.4)
Resurrect-(Lv.6)
FireStorm-(Lv.8)
IceStorm-(Lv.10)
Drain Life-(Lv.12)
Weakness-(Lv.14)
Nightmare-(Lv.16)
Magic Shield-(Lv.18)
Blessing of Vitality-(Lv.20)
Blessing of Might-(Lv.22)
For information on Elven roles, click here .
Ad blocker interference detected!
Wikia is a free-to-use site that makes money from advertising. We have a modified experience for viewers using ad blockers

Wikia is not accessible if you've made further modifications. Remove the custom ad blocker rule(s) and the page will load as expected.